Showing some school spirit could be a laugh
College football in America. Whether you've been lucky enough to attend a game or if you've just seen one in the movies there is no denying what a spectacle it is. Tailgates, marching bands and massive stadiums packed with, in some cases, hundreds of thousands of spectators. Many of whom are students of the university pumped up on lite beer. 
Win, lose or even the rare draw these students get right behind their university. Every home game is an occasion. It's a chance for students of all backgrounds to get together, show their pride for their university and have a bit of fun.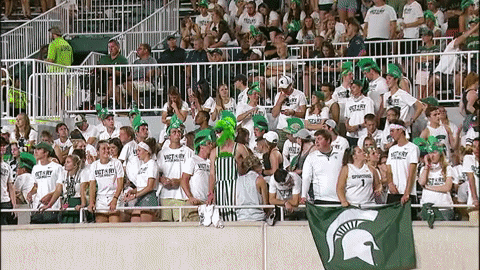 Where am I going with this? If you don't already know, it will come as no surprise to learn that the Stirling University football (soccer) team are pretty good. In fact, they are so good that they are only one outstanding, yet achievable, season away from playing in the Scottish Professional Football League (SPFL).
As of this season (2018/19), the university football club boasts 5 football teams with the first XI competing in the Lowland League, the highest division for any Scottish university to compete in.
The University first XI have competed in the Lowland League since 2013. This has given students the opportunity to compete in the SPFL Scottish Cup and has seen the football team move their home matches from being played on the university campus to sharing the Forthbank Stadium with local SPFL League 2 side Stirling Albion.
This move has allowed students of Stirling University the opportunity to watch their fellow students battle it out in a 3,808 capacity SPFL stadium every second Saturday. Not only is this a pretty cool experience for the players but it's a great opportunity for students to steal one of America's finer traditions.
What I am suggesting is for students to show a bit more pride in the achievements of our fellow students and university.
According to the Times Higher Education Student Experience Survey 2017, Stirling University is ranked 1st in Scotland and in the top 5 within the UK for good sports facilities. The universities footballing facilities are of particular pride to not only the university but to Scottish football as a whole. Indeed, the footballing facilities are that good at Stirling University that Scottish Premiership side St Johnstone Football Club use the facilities on a daily basis for training. That in itself is something that we should be proud of.
Now I'm not saying that we should all park up outside Forthbank stadium at 11 am on a rainy, cold February morning and have a BBQ out of the boots of our cars whilst drinking Coors Lite. But, would it not just be a bit of a laugh to go for a few beers with a few friends and then show your support not only for your university but for your fellow students too. It's got to be better than spending a Saturday doing nothing.
We are blessed at this university with top class sports facilities and talented athletes. How many universities in the UK actually play their home games in a real stadium? We should make the most of our blessings and show face at the home games now and then and cheer on our peers. Who knows, maybe the little bit of extra support could be the difference for getting the club into the professional leagues.
The next home game for Stirling University first XI is to Kelty Hearts on the 17/11 at 15:00. For more information on upcoming fixtures follow the link below or check out the teams official Twitter, Facebook or Soccerway.com.
#bleedgreen