Swing to the envy of your friends
New heaven; New friendship… through golf.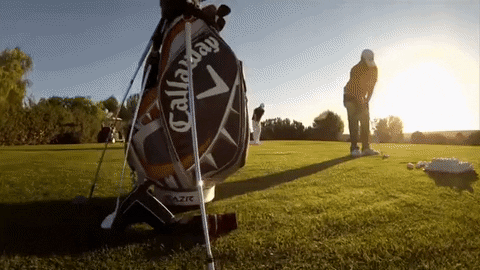 On 8th September 2017, I kissed goodbye to Singapore and landed in Scotland, the motherland of golf!
Within the compound of the University of Stirling, there is a beautiful 9-hole golf course, open to both the public and students of the university. The main entrance (reception counter) is located beside the Airthrey Castle and Alexandar Court. Whether you are a greenhorn, a beginner or a professional, I believe you will enjoy and fall in love with this 1,000-yard-long course.
I found my piece of heaven at the Airthrey Golf Course, University of Stirling, Scotland, UK.
This golf course has so much to offer. The overflowing supply of fresh air clears your mind, the greens that brighten your eyes and the gorgeous scenery that wakes your senses.  There is no other gym better than this.
7 tips on how to find your piece of heaven:
Comfortable wear that allows you to swing and move around freely without tearing a hole anywhere.
Comfortable shoes that give you air when you walk on the soft and puffy greens.
Your Student ID to enjoy the benefits.
2.70 pounds (weekdays); 3.50 pounds (weekends) for the green fee (price for a 9-holes game).
Additional 1.50 pounds if you need to rent the golf clubs.
Additional 1.20 pounds for golf balls. (secret tip: leave your student ID with the reception and return the golf balls after the game, it will be free.)
Bring along a friend. The heaven will be a nicer place when we share.
Fun interaction and relationship building
Who says golf is a boring old boys sport? This is definitely not true for us especially. An hour of the game on the golf course brought us from strangers to friends and relieve us from the tired mind after a week of readings.
Instagram-worthy scenery
Besides the natural setting, there is also a historical setting of an 18-century castle in the golf course. An Instagram-worthy photo in front of the castle in your golf wear, with your newly made friends will surely make you the envy of your friends.
How to get to the entrance of heaven:
Do you know…
The female golfers from the University of Stirling came in as the winner in a recent golf tournament held in the United States.
Just a few days before the ladies, the male golfers did not disappoint us either. They were just a shot behind the winner and came in as the runner-up in the golf tournment. Read more here at http://www.stir.ac.uk/news/homepagenews/
Wait, not just these winnings that our golfers have made us proud, both the male and female golfers have been the winner in the EUSA (European University Sports Association) since 2015 and continued to be this year at the Golf Championship held at Czech Republic recently. Read more here at http://www.stir.ac.uk/news/2017/09/golfers-top-of-class/
Come and find your piece of heaven and don't forget to share by hashtag #bethedifferencemaketheputt
Video taken from https://www.instagram.com/p/BaZt3QEHpXy/